Weekly News - December 5
Events Workshops & Training Research Talks & Faculty Presentations Heck Yeah
New support for research and scholarship development
As MHC continues to encourage scholarship and research opportunities on campus, additional support for faculty and staff engaged in related activities will be available in January 2024.
Dr. Elizabeth Pennefather-O'Brien will serve as MHC's first Research and Scholarship Development Coordinator, bringing research experience that has both depth and breadth. She has presented or published research in education, biological anthropology, archaeology, and rural mental health. She has been involved with numerous projects with multidisciplinary teams and has successfully applied for internal and external funding, including five years of funding from Immigration, Refugees and Citizenship Canada. Elizabeth is a long-standing MHC instructor, with 28 years of teaching experience.

Elizabeth will be responsible for guiding and overseeing research projects with support from the Research and Scholarship Development Team. She will be communicating with MHC and the regional community on MHC's collective research activity until June 2025. We look forward to working with Elizabeth as she supports MHC researchers and strengthens the college's research capacity.
---
MHC receives $50k from Medicine Hat Health Foundation to support health studies
Medicine Hat College students with their sights set on healthcare will benefit from $50,000 to help fund their studies, thanks to a donation from the Medicine Hat Health Foundation.

Over the next five years, students in eligible programs can apply for up to $10,000 annually in bursary awards ranging in value between $1000 - $2000. Those eligible will have a demonstrated financial need and be in a program with a helping and caring outcome.

Dean of MHC's school of health and community services, Jason Openo, says funding is often the difference between someone continuing in their studies or dropping out for fear of their debt load. This donation will help reduce barriers for students while opening opportunities for in-demand jobs, benefitting both individuals and the region.
Read the full story here.
---
Canada launches 988 suicide helpline
A nationwide suicide prevention hotline is now available to Canadians struggling with mental health challenges. The 988 helpline provides toll-free texting and calling to anyone who is thinking about suicide, or who is worried about someone they know.

Information about the helpline can be found at 988.ca.
---
December payroll
Please remember to submit your timesheets and payroll documentation to Human Resources by December 13 at 3 pm. Pay day for this month is Wednesday, December 27, 2023.
---
MHC Festive Choir performance
Come enjoy the end of fall term by supporting your MHC Festive Choir on Tuesday, December 12 from 12:15 - 12:30 in the MHC Cuboid (by the main entrance). There will be an opportunity for all faculty, staff, and students to enjoy listening to our songs, as well as sing-along to well-known tunes while enjoying a light treat.
---
Limited classroom availability for winter 2024
Classroom and lab space in the college is at a premium for the upcoming semester. There is limited ability to move courses between the times of 9 a. m. - 2 p.m. Monday through Friday for the entirety of the winter semester. Please be aware of this when sending requests to Scheduling.

As a reminder, academic booking space requests need to be sent to scheduling@mhc.ab.ca. Non-academic booking space requests, such as guest speakers, need to be sent to facilitybookings@mhc.ab.ca.
---
PD closure
Registration services will be closed the morning of December 7 for professional development. They will reopen at 1:00 p.m.

Thank you for your understanding.
---
Food services hours for December
With the semester winding down, Crave, the Cafeteria, and Common Grounds will be adjusting their hours as follows:
Cafeteria
December 5 - 12, 7:30 a.m. - 6:00 p.m.
December 13 - 15, 7:30 a.m. - 4:00 p.m.
December 18 - 20, 7:30 a.m. - 3:00 p.m.
December 21, 7:30 a.m. - 2:00 p.m.
Closed December 22 - January 1
January 2 - 5, 7:30 a.m. - 3:00 p.m.
Regular hours resume January 8, 7:30 a.m. - 6:00 p.m.

Common Grounds
December 5 - 15, 7:30 a.m. - 4:00 p.m.
December 18 - 20, 7:30 a.m. - 3:00 p.m.
December 21, 7:30 a.m. - 2:00 p.m.
Closed December 22 - January 1
January 2 - 5, 7:30 a.m. - 3:00 p.m.
Regular hours resume January 8, 7:30 a.m. - 4:00 p.m.

Crave
December 5 - 21, regular hours 11:00 a.m. - 5:00 p.m.
Closed December 22 - January 2
Open regular hours starting January 3, 11:00 a.m. - 5:00 p.m.
---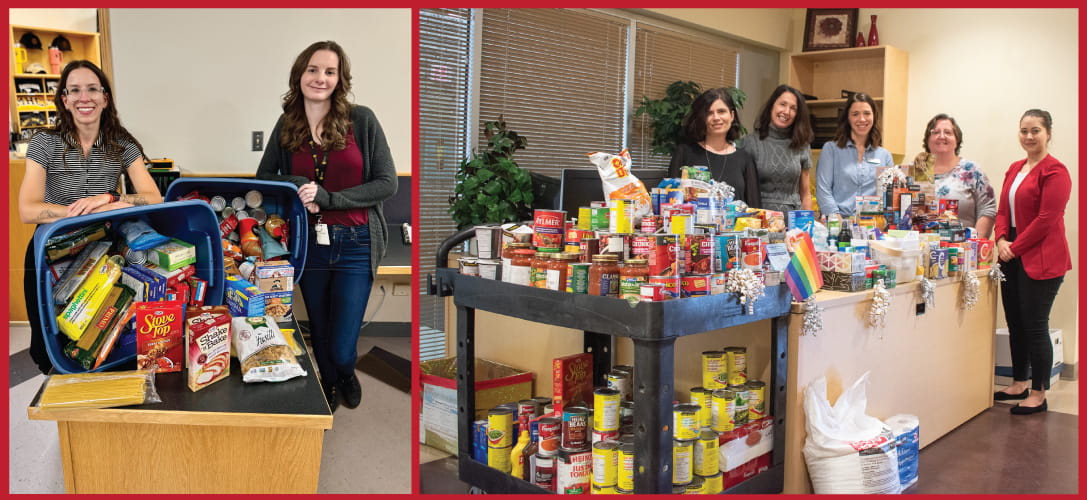 Student Food Bank shelves refilled
The Human Rights Advisory and Working Committee would like to thank everyone for their generous donations to the Student Food Bank. The food drive was a huge success!

In total, a staggering 721 items were donated at the Medicine Hat and Brooks Campuses with an estimated total value of $3605 worth of groceries.
Congratulations to the Registration team who collected the most items (183) and Brooks campus (exceeded the goal given), both groups win coffee and donuts.
---
Support students and enhancements at MHC
In recognition of the world's largest generosity movement, Giving Tuesday, help perpetuate MHC's Community of Giving through a payroll deduction donation in support of students and enhancements at MHC! Currently, over 70 monthly donations are made by employees through payroll deduction to support activity at MHC.

Payroll giving occurs on a monthly basis and is tabulated throughout a given tax year and tallied on your T4 for easy inclusion at tax time. Click here to start, increase, or change your giving.

Thank you to those who already donate and we look forward to having new contributors join in! If you have questions about giving opportunities or how you can make an impact, please connect with us at engage@mhc.ab.ca.