Health Care Aide
As age and illness advance, many people need support from caring individuals who have the compassion and training to provide basic health services. Our Health Care Aide program is designed to equip you with the knowledge, skills and values necessary to function as a front-line caregiver in just eight months.
The Government of Alberta HCA Curriculum (2019) is offered through Medicine Hat College at both the Medicine Hat and Brooks campuses Individuals with related work experience as a Health Care Aide may be evaluated through Prior Learning Assessment. You must provide information from your employer(s) to confirm your learning and you will also be required to complete a written and skills evaluation.
With flexible delivery options and strong employment opportunities, get ready to launch a rewarding career in health care.
---
Program Delivery Options:
The Health Care Aide Program (HCAP) is offered as a full-time program of 32 weeks duration in both Fall and Winter intakes.
Fall intake: In this instructional format, students will attend all lectures and labs in-person at Medicine Hat campus or Brooks Campus depending on which program you applied for. Similarly, clinical placements will be in Medicine Hat or Brooks depending on which program you are enrolled.
Winter intake: This delivery format is only available at MHC Main Campus. In this instructional format, the students will receive all lectures synchronously online. Students will have the opportunity to obtain class content from recorded lectures. Lab training will be in person at Medicine Hat campus. Clinical placements will be in Medicine Hat.
---
NEW FUNDING OPPORTUNITY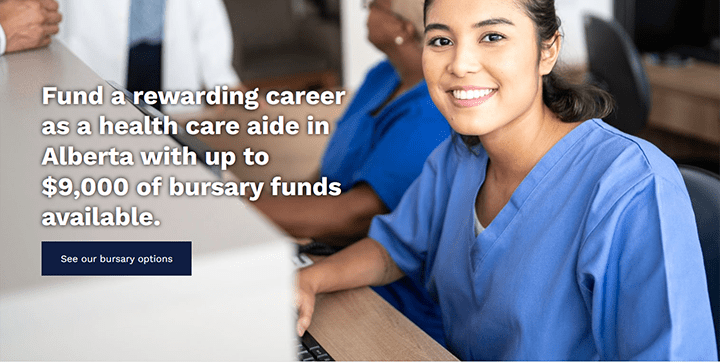 Alberta Health, in partnership with Alberta Health Services, has launched a health care aide tuition bursary program to assist individuals starting their health care aide careers!
Click here to learn more.
You will be required to submit official transcripts showing credit in:
Academic English Language Arts (ELA):
Grade 11, 20-2 level course, with a minimum score of 60% achieved or Canadian jurisdiction equivalent; or
English 20-1 with a minimum of 60% achieved or Canadian jurisdiction equivalent; or
English 30-1 or 30-2 with a minimum of 55% or Canadian jurisdiction equivalent; or
Deemed equivalent by completion of Next-Generation ACCUPLACER (assessment placement test) reading and writing tests, with a minimum score of 237 in each category. The math test is not required.
Note: Students who have not met the ELA requirement (i.e. ELA 20-1 , ELA 20-2, ELA 30-1 or ELA 30-2) with the minimum grade are subject to completing the Next Generation ACCUPLACER assessment test. This can include students out of province, out of country, or mature students that have been out of school for a significant length of time.
English Language Proficiency (ELP)
Candidates where English is a Second Language (ESL) must meet the English Language Proficiency requirement in addition to the Academic English requirement. Equivalencies are as follows:
Required Canadian Language Benchmark (CLB) of a minimum of 7 in each of the 4 language skills (speaking, listening, reading and writing) and not an average of 7; OR
By completing high school in Canada. Studies must have been in English at an approved Canadian high school (grades 9, 10, 11, 12) with at least three consecutive years of full-time academic study; OR
By completing a recognized post-secondary degree or diploma program in Canada. The program must have involved at least two full years of full-time, consecutive academic study in English.
Approved English Language Proficiency Tests
Medicine Hat College will accept submissions from any one of the following approved ELP tests:
International English Language Testing System (IELTS) Academic: 6 (no section score below 5.5);
Test of English as a Foreign Language Internet Based Testing (TOEFL iBT): 71;
Canadian English Language Proficiency Index Program (CELPIP) General: 7 (with no section score below 6);
Canadian Language Benchmarks/Milestones Test (7 in each strand, not an average of 7);
Duolingo English Test*
Canadian English Language Benchmark Assessment for Nurses (CELBAN): 7 in each area of listening, reading, writing and speaking, not an average of 7.
Note: Test Currency - results must have been obtained within two years of the start date of the program.
You must submit the following documentation prior to the first day of classes:
CPR (Renewal required on a yearly basis)
Emergency Contact and Health Form
Police Information Check (including vulnerable sectors check)
Immunization records (deficiencies must be addressed or in the process of being addressed prior to clinical/practicum placement)
N95 Mask Fit Testing (Please email HStudiesInquiries@mhc.ab.ca for detailed information.)
In addition to these requirements, you must also possess knowledge of computer and technology tools to be successful in the program. You must:
Be able to communicate, research and understand information
Know how to use a computer to surf web, email
Be able to critically evaluate and understand how technology can affect one's behaviour
Be able to create, produce content, and effectively communicate using email, media, and internet
Graduates of the program will find employment opportunities with:
Continuing Care Facilities
Assisted Living Facilities
Community Agencies - both private and government
Private individuals