Interlibrary Loan
Who can use MHC Interlibrary Loan Services?

Faculty, staff and students can all place requests for interlibrary loans.
What can be borrowed through Interlibrary Loan?

Journal articles, books, and chapters of books/eBooks can all be requested through Interlibrary Loan.
What cannot be borrowed through Interlibrary Loan?

Textbooks for class use.
An entire e-book or an entire journal issue.
How long will it take my request to arrive?

Electronic copies of articles or book chapters typically arrive within 48 hours. Book loans typically arrive within 7 – 10 days.
How will I pick up my interlibrary loan items?

Electronic copies of articles or book chapters are delivered to your college email. You will be notified via your college email if a book is ready for you and it can be picked up at the Library Service Desk of either the Vera Bracken Library or the Brooks Campus Library.
How long can I keep my interlibrary loan items?

The loan period for books borrowed from another library is 3 weeks with no renewals.
What happens if my borrowed interlibrary loan items are overdue?

Late items are charged $1 per day per item.
If items are lost or damaged, the lending library will issue a bill of replacement charges.
Is there a charge for this service?

While the library pays to borrow some interlibrary loan materials, there is no charge to the Faculty member, staff member or student.
To Submit a Request:
Expand your library search results to include "Libraries Worldwide" by using the filter on the left hand side of the library catalogue. If we do not have an item it will say "Held by other libraries worldwide" and will display a "Request Item From Another Library" button in the details record.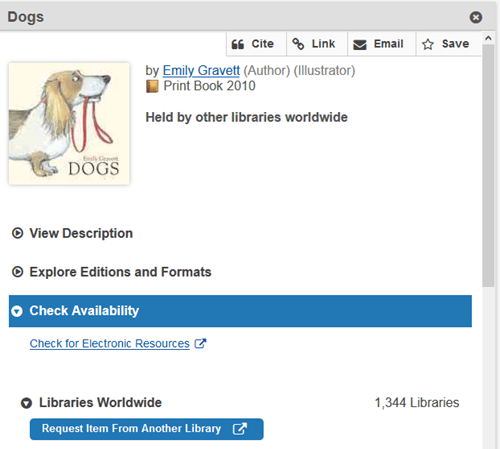 Distance Learning
Your library account remains active each semester you register in MHC classes. All online library resources are accessed using your college login. All physical materials can be mailed to you at no extra cost.
Request Library Books & Videos
Request items by email via illo@mhc.ab.ca specifying that you are a DL student. Include your name, student ID number, complete mailing address, phone number and item information.
You will receive items by mail. You can return items to the library by using the return mail address label provided.
Online Databases (eBooks, Articles & Steaming Videos)
All registered students can access digital materials. These can be found in our library catalogue. Access looks like:
To access these materials you will need to login with your college login.
Student ID Cards and/or Verification of Enrollment
If you require proof of being a student for benefits (ie. student banking account) there are 2 options:
Student ID cards may be obtained by visiting MHC libraries in person at the Medicine Hat College or Brooks, Alberta campuses.
Virtual Student ID cards are now available. Students will now see a virtual ID card displayed within their dashboard. Students are required to upload a photo to activate this card. Please follow the guidelines within dashboard when submitting your photo.
A Verification of Enrollment can be mailed in order to confirm student status and is available by emailing registration@mhc.ab.ca